Science Saturdays at Mountain Lake – First of the Season – May 9th, 2PM-3PM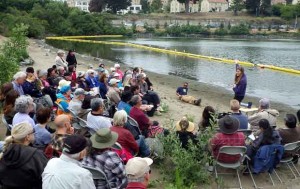 Returning Local Wildlife to Mountain Lake
with Jonathan Young, Presidio Trust Wildlife Ecologist
When: Saturday, May 9th, 2PM-3PM
Where: North Arm of Mountain Lake, (see map below)
Join wildlife ecologist Jonathan Young as he shows Pacific Chorus Frogs and the Three-spine Stickleback fish. Once eliminated from Mountain Lake by urban disturbances, scientists are now helping these two species make their long-awaited return to Mountain Lake. Ask Jonathan your questions about all of the cool wildlife in the Presidio.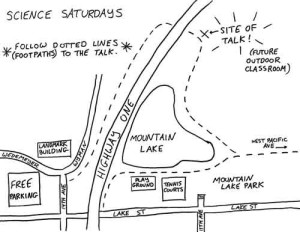 Jonathan Young is a wildlife ecologist for the Presidio Trust. He began working in the Presidio as a habitat restoration volunteer in 2010. He then completed two ecological-based internships where he immersed himself in the local natural and cultural history. During this time, he completed a Master's degree at San Francisco State University focused on amphibian conservation and disease ecology.
He is a contributing author for the Trust's Wildlife Management Plan, and is leading the Park's effort to reintroduce several species of local wildlife to Mountain Lake, including freshwater mussels, Pacific chorus frogs, three-spine stickleback fish, and western pond turtles.
Second Saturdays aren't just Science Saturdays! Join your neighbors at Mountain Lake every Second Saturday from 9:00 am to noon for Service Saturdays. Volunteer and help restore Mountain Lake's precious natural resources.