On August 3, come hear John Hafernik discuss the damselfly's natural history, threats to its survival and the potential to reintroduce it to Mountain Lake. While this species was once widespread in the Bay Area, its last known San Francisco population now survives in the Presidio and few other populations remain.
Mountain Lake Science Saturdays is a lively new series of talks by scientists studying topics relating to Mountain Lake and its ecological restoration. On the first Saturday of every month, gather at the lake to hear researchers from a variety of disciplines talk on topics ranging from Archaeology to Zooplankton. Here's your chance to ask the experts your questions about the science being done to save this precious San Francisco natural wonder!
Free. No Reservations Required. 
Please Tell Your Friends And Colleagues.
Activities For Kids During The Talk!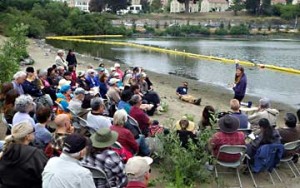 Saturday, August 3, 2013 – John Hafernik
1:00PM – 2:00PM
The San Francisco Forktail Damselfly

John Hafernik is a Professor of Biology at San Francisco State University, President of the California Academy of Sciences and Director of the ZomBee Watch Citizen Science Project. He specializes in the ecology and evolutionary biology of insect and their kin and has studied the rare San Francisco Damselfly since the 1970s. In recent years, he and his students have conducted surveys of bees, beetles, butterflies, spiders and other arthropods in the Presidio.​
Upcoming Science Saturdays include:
Western Pond Turtles of Mountain Lake with Jessie Bushell – Saturday, September 7, 1 pm
Freshwater mussels in Mountain Lake with Niveen Ismail – Saturday, November 2, 1 pm