This Saturday June 1, the Presidio Trust begins a lively series of talks by scientists studying topics relating to Mountain Lake and its ecological restoration.On the first Saturday of every month, gather at the lake to hear researchers from a variety of disciplines talk on topics ranging from Archaeology to Zooplankton. Here is your chance to ask the experts your questions about the science being done to save this precious San Francisco natural wonder!
Free. No Reservations Required. 
Please Tell Your Friends And Colleagues.
Activities For Kids During The Talk!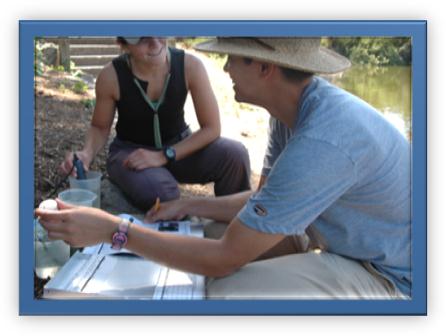 Saturday, June 1, 2013 – JONATHAN YOUNG
Presidio Trust and San Francisco State University
1:00PM – 2:00PM
Introduction to Reintroduction: The future of wildlife restoration at Mountain Lake
Saturday, July 6, 2013 – KARI JONES
Presidio Trust Archaeology
1:00PM – 2:00PM
Mountain Lake Underground

 Jonathan Young is a Presidio Trust Natural Resources intern and graduate student at San Francisco State University. He currently studies amphibian conservation at SFSU, and has been involved with Presidio native habitat restoration for the last three years. Once dredging at the lake is complete and the botanical foundations of the Mountain Lake ecosystem are reestablished, several species of wildlife once common at the lake will be reintroduced. Planned reintroductions include native fish, freshwater mussels, aquatic turtles, and several species of amphibians. Jonathan's graduate work is focusing on the recent emergent pathogen of amphibians (Chytrid fungus) and its implications for urban amphibian conservation projects. Jonathan's work informs an emerging field of research that is being called urban ecology.