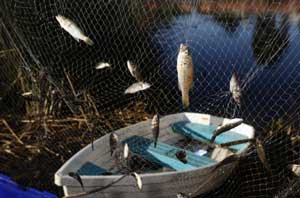 In a final effort to rid thousands of invasive fish from the Presidio's historic Mountain Lake and make room for native species, biologists will use a standard fish-killing chemical called rotenone, park officials said this week.
The decision came after three years of netting, trapping, electric stunning and hand-capturing failed to empty the lake of scores of large alien carp, bass and sturgeon, in addition to at least 27,000 alien fingerlings.
For clearance to finish the job, officials have received permits from water quality agencies and local, state and federal regulators to use the short-lived chemical in single applications early next month, they said.
"The chemical only kills animals with gills — which means only fish — and before we can introduce the native species of wildlife we need to restore the lake, we must clean it of the species that never belonged there," Michael Boland, the Presidio Trust's projects chief, said at a public meeting in the Presidio's observation building Thursday.
For more information, please refer to David Perlman's article on SFGATE