If you have been out in the park lately, you've probably seen that work crews have cleared all the vegetation along the west shore of Mt. Lake and there's equipment along Park Presidio. From the photo below you can see that CalTrans has now added jersey barriers as a buffer between their work area and the traffic lanes.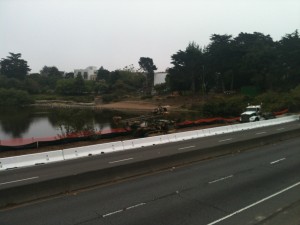 This is the Highway 1 Stabilization part of the bigger Remediation project. As the Presidio Trust explains in the signage (very nicely done, btw) around the lake:
To ensure the stability of Highway 1 for the dredging operations, CalTrans will stabilize Park Presidio Boulevard by installing stone columns in the ground. Caltrans will also treat storm water runoff to prevent untreated highway runoff from discharging directly into the lake. This work will be conducted at night because a northbound lane of traffic will be closed to implement the project.
This work started on schedule in the middle of July.  Neighbors who live along the park and near the construction have reported the construction noise is extremely loud and the lights are bright.  Also, because all the vegetation has been removed, the sounds of the traffic along Highway 1 have increased too.  The CalTrans work is expected to go on for several more months before the dredging part of the project will begin.  More on that in the future.
For complete information on the Remediation Project click here.