Please support Proposition B, the 2012 Clean and Safe Neighborhood Parks Bond on this November's ballot. Prop B will help the City tackle over $1 billion in infrastructure needs throughout our vast park and playground network.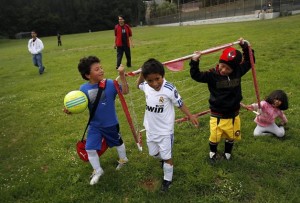 Proposition B improves existing facilities that are worn out from years of use; provides urgently needed seismic improvements that will make recreation facilities and playground equipment safer; constructs new waterfront parks; and provides for shoreline restoration. The bond will also fix broken irrigation systems in several of our parks, failing playgrounds, and pools.
Prop B investments will contribute significantly toward the much needed funds for the renovation of the Mountain Lake Park Playground.
Mountain Lake will already be benefitting from the 2008 Park Bond when the bathrooms are renovated near the playground by spring 2013. Proposition B will help to beautify the playground area adjacent to the lake remediation project spearheaded by the Presidio Trust, and will enhance the park.
In keeping with City policy, this bond will be funded as existing bonds get paid off, resulting in NO increase to property tax rates.
Prop B is widely supported by Mayor Ed Lee, the entire Board of Supervisors and School Board, Senator Feinstein, Congresswoman Pelosi, Senator Leno, Assemblywoman Ma, neighborhood organizations and park and youth advocacy groups all over town. You can view a full list of endorsers and a list of projects at www.yesforparks.com.
Mountain Lake Park Playground Renovation Efforts Well Underway
Friends of Mountain Lake Park Playground (FMLPP) has been working closely with the City of San Francisco,  San Francisco Parks Alliance and the architecture firm Bohlin Cywinski Jackson to help make the new playground a reality.  In recent months, the group hosted two public design review meetings and received a lot of helpful feedback from the community. A steering committee consisting of members of FMLPP, SF Parks Alliance and SF Rec & Park is working to ensure the design reflects the community's feedback as much as possible and that the project is managed and executed efficiently. Current designs can be found at www.fmlpp.org/renovation.html
FMLPP is excited to be included in this November's Ballot Measure Proposition B. In the measure, funds have been specifically allocated toward the playground's renovation. These dollars will be critical to playground's funding.
Friends of Mountain Lake Park endorses Proposition B on upcoming November 2012 ballot.
Photo above copyright Sarah Rice.