Neighbors and Friends, 
It is hard to believe summer is already coming to a close!  We would typically save our updates until after the manic back to school period, but news like this is too good not to share! 
Supervisor Mark Farrell, a steadfast supporter of our Playground project since its inception, was a strong advocate for FMLPP during the San Francisco budget proceedings.  Recently, he successfully helped to secure an additional $250,000 in funding from the City for the playground renovation!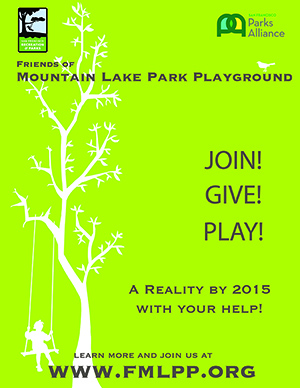 This additional funding, along with the funding from the 2012 Clean & Safe Neighborhood Parks Bond and our successful fundraising campaign this past spring, means that we only have the last $150,000 to raise to make our new playground a reality!
FMLPP, together with our architects Bohlin, Cywinski, Jackson, have worked closely with the SF Rec & Park Department and SF Parks Alliance to make sure we are poised to begin construction by this winter.  We are on track to have the playground finished by the end of summer next year.  However, we cannot begin construction until all of the funds have been raised.
We are grateful to each of you for being loyal supporters of our cause, as well.  Please continue to help us in these last few weeks with donations, leads to donations, and helping to spread the word of our successful project's final fundraising push.  If you have not already done so, don't miss out.  Consider making a donation today and join your friends and neighbors in building a very special playground for generations of San Francisco children to enjoy.