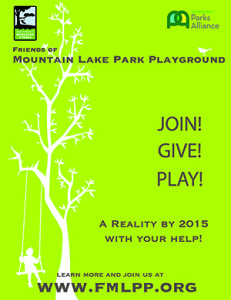 Neighbors and Friends,
The fundraising campaign for the new playground at Mountain Lake Park is coming to a close next week and we only have the last $25,000 to raise to make this playground a reality! It's your last chance to support this project. It will be unlike anything else in the city or even the west coast. If you haven't donated; please join our many supporters – we are so close!
Three families have stepped forward to offer a $75,000 Challenge Grant for this final phase. These families have pledged to match each donation dollar for dollar until we meet our goal of raising the last $150k. We have raised close to $50, 000 in these past few weeks and there is only another $25, 000 to go; every dollar counts!
The Friends of Mountain Lake Park Playground has committed that we will rai by October in time to begin construction this winter and open the new playground in 2015! Together with our architects Bohlin Cywinski Jackson, we have worked closely with the SF Rec & Park Department and SF Parks Alliance to make sure the design details are complete to meet this deadline. There are beautiful donor recognition opportunities for our generous supporters.
Thank you to all of our existing supporters. Please continue to help us in these last few weeks to meet our matching challenge with donations, leads to donations, and helping to spread the word of our successful project's final fundraising push. If you have not already done so, don't miss out. Consider making a donation today and join your friends and neighbors in building a very special playground for generations of San Francisco children to enjoy.
And please spread the word!
Kind regards,
Jen, Kate & Claire
Friends of Mountain Lake Park Playground
JOIN! GIVE! PLAY!
www.fmlpp.org