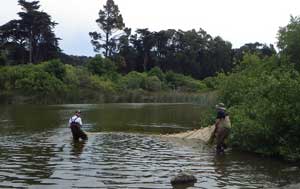 Thanks to those who made it to our public meeting last Thursday.
Michael Boland led by outlining our vision for a healthy lake, in the context of the challenges we currently face. Folks were then invited to ask questions of some of our project partners, including experts and academic researchers who specialize in algae, amphibians, aquatic plants, invasive fish removal, outdoor education, water quality, and western pond turtles.
You've likely heard that we're moving forward with our plan to use a botanical fish toxicant in the lake this November, because eradicating invasive fish is essential to restoring the lake to ecological health. We've set up a Fish Eradication Project webpage that offers more information:  and please feel free to send me any questions too.
Another key component to revitalizing the lake is restoring its once vibrant and diverse aquatic plant communities. Aquatic plants will lock the nutrients now free-floating in the water in Mountain Lake into their shoots and roots. Without excess nutrients in the water column, algae cannot bloom out-of-control. That's a benefit of aquatic plants in addition to their enormous value to wildlife as food and habitat. Very cool!
This Saturday, October 25th, you are invited to a demonstration where I will plant seeds for a species of local aquatic plant once found in the lake and since wiped out by the invasive carp. I think the whole process is very novel and engaging, so I wanted to extend an invitation to a short list of folks like you who have been interested and involved in improving the health of the lake.
Planting Aquatic Plants at Mountain Lake Saturday, October 25th,
1:30pm
Gather at the top of the steps to the beach
The process will be easy to observe from the trail, and you should feel free to bring little ones. I'll offer a casual talk about our local aquatic plant species and their significance to the lake's health. It may only take 15 minutes or so, depending on how many questions you all offer. I've also invited a colleague of mine to point out birds as well, and we'll have some binoculars to share.
I hope to see you Saturday!
Jason Lisenby
Biological Science Technician
Presidio Trust