As Richmond District mothers and San Francisco enthusiasts, we write you today to share the exciting news that the Mountain Lake Park Playground renovation is well underway and to ask you to contribute to its completion.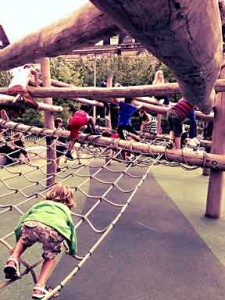 Three years in the making, Friends of Mountain Lake Park Playground (FMLPP) represents hundreds of community members who see the need for an updated and safer playground. We must raise the last $750,000 of our $3,100,000 project cost by Spring 2014.  Please join us to help close this gap in funding to make our playground a reality.
In June, the SF Board of Supervisors and the SF Recreation and Park Commission unanimously approved plans for the new playground designed by award-winning architects, Bohlin Cywinski Jackson. The design honors Mountain Lake's unique historical site, recognized as the birthplace of San Francisco.  Children of all ages and abilities will enjoy structures never before seen on a West Coast playground! The new playground will also have additional seating, expanded picnic and parents' areas, and enhanced lake views to maximize the experience of the natural environment. For improved safety and accessibility, there are limited entry points, smooth surfaces throughout, and improved sight lines for watching multiple children. For more project details, please visit our website and donate. A project plan PDF is also available for your review.
FMLPP is a non-profit organization of neighborhood volunteers working in partnership with the San Francisco Recreation and Parks Department [SFRPD] and the San Francisco Parks Alliance (our 501c3 fiscal sponsor). We are 80% of the way to having the necessary funds to make this playground a reality. We have accepted approximately $350,000 in donations and in-kind services and SFRPD, which oversees the park at 12th Avenue and Lake Street, allocated $2 million from its 2012 bond measure to help pay for improvements at the site. Without your generous support, we cannot move forward with construction, now set to begin in 2014, and have our new playground ready in 2015. Please join in enriching the lives of thousands of neighborhood families and securing the future of Mountain Lake Park Playground as a neighborhood treasure for generations to come. Please donate today!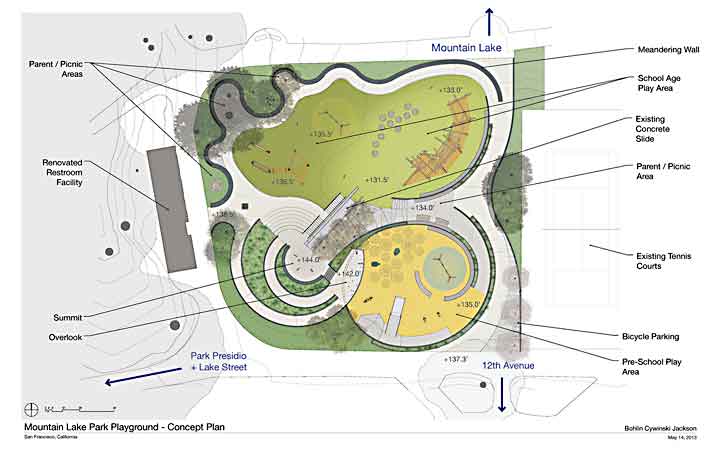 Sincerely,
Jen Fetner, Kate Green & Claire Myers
Friends of Mountain Lake Park Playground